NORD merging pv-solar with heat technology
NORD as one of the new leaders in photovoltaic and heating systems, presents a comprehensive solution for the green building concept based on the basic requirements for a photovoltaic system, which include self-sufficiency, maximum economic savings and environmental protection.  The overall NORD system provides the users with a complete photovoltaic system from panels to battery storageand integrates with NORD heating elements a load optimization never been on the market before. The engineering team of NORD has developed a unique EcoMode operation feature you can run your heating on pv-energy surplus only. NORD is proud to cooperate with leading component manufacturers and offers top reliable equipment proven by years of operation in the field for all kind of products as hybrid inverters, batteries, EV-chargers, pv-modules, heat pumps and hot water boilers.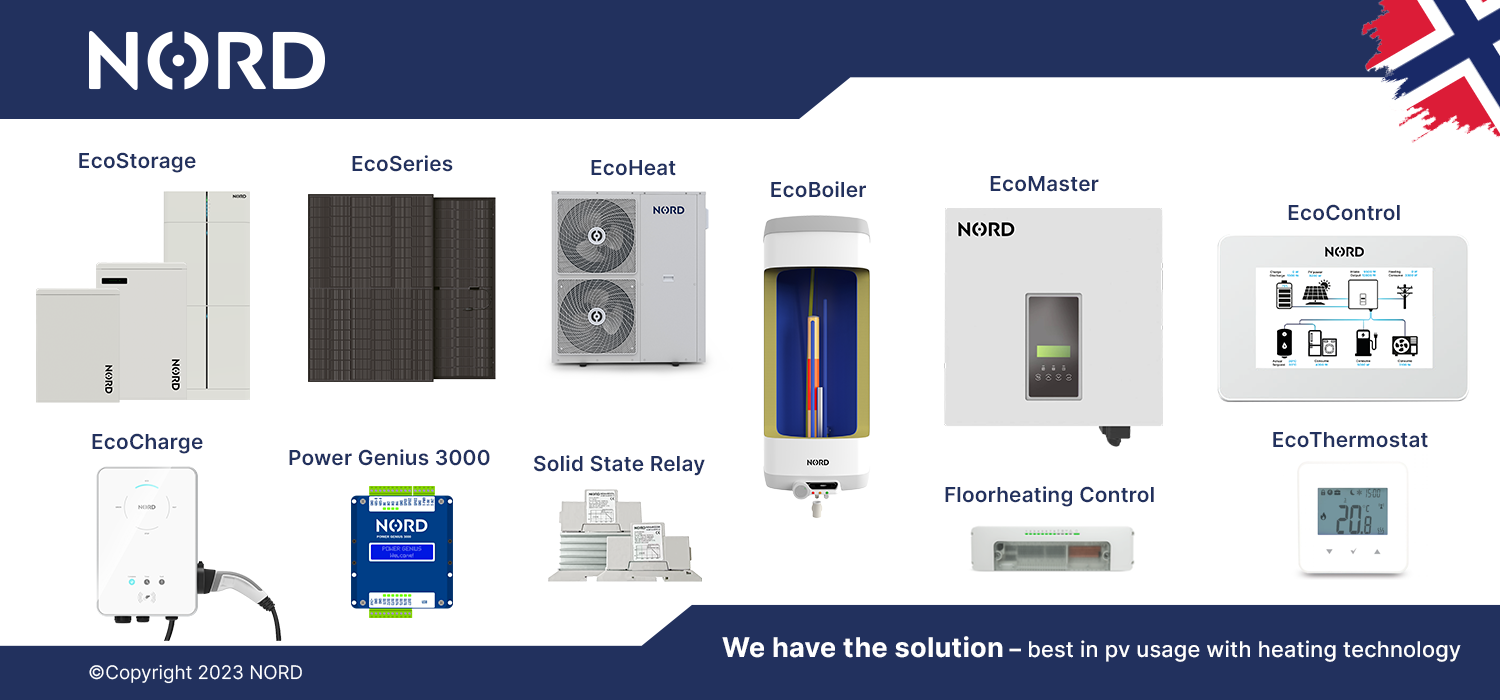 NORD's complete green building solution
The largest appliances in the household usually are heating and hot water production. That is why it is proposed to combine a photovoltaic system with a heat pump and water heating. NORD offers a comprehensive solution that combines the PV system with DHW heating, household heating and now also EV charging (electric vehicles/plug-in hybrid cars). In order for the customer to maximize the benefits of such complex system, it is necessary that the individual system components are as compatible, user-friendly and affordable as possible. Therefore, the individual components are tuned for perfect harmony and controlled by an intelligent EcoControl interface for ideal distribution of the energy and heat production.
The entire system can be easily designed from scratch to meet the diverse requirements of each customer. Parts of the system can be ordered in different performance variants. Moreover, NORD solution is not limited to use only for single-family homes, but also suitable for installations in small apartments, apartment buildings or even smaller commercial installations.
NORD offers customers the best of the world of photovoltaics, household heating and water heating technology so as to contribute as much as possible not only to economic savings, but also, and especially, the opportunity to participate in the fight against climate change and contribute to a more sustainable future for all. At the same time NORD engineers controlling every product for its quality to insure long lifetime and the return of every investment.